Today was the American Homebrewer's Association's Rally at Firestone Walker Brewing Company in Paso Robles. My wife, a friend, and I volunteered to help sign up and renew members and sign people in at the door. It was a bit hectic and wildly windy but it was a good to meet so many people passionate about home and craft brew.
Firestone brewers gave tours through the brewery and shared all kinds of tidbits of how they make world class beer. There's nothing quite like seeing the blow off from a cylindroconical fermenter the size of a bus sitting on it's front bumper.
Afterwards we met up at the back of the brewery where Jaime Smith (VP or Marketing) had put together a nice setup for us.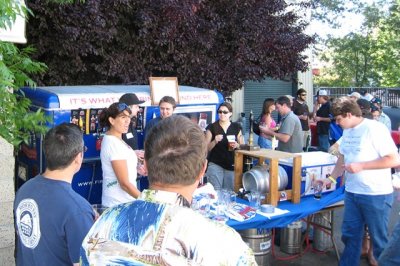 In addition to their standard beers they had a couple of treats for us. The first was a cask of unfiltered Pale Ale served by beer engine and at real ale temperatures. I first had the unfiltered at the Avila Beer Festival last weekend and loved it. The best way to describe it is an incredibly fresh homebrew version of their regular pale. One of the Firestone brewers said that he thinks the reason the unfiltered tastes so great is that it's just finished a massive dry hopping with Centennial.
The other special beer was another component of Firestone's amazing tenth anniversary beer, 10. Bravo Brown is an Imperial Brown Ale (22 Plato with 45 IBU) hopped entirely with the relatively new Bravo hop. The hops had mellowed to the background behind the bourbon sweetness and malt. I could see splitting a 22 oz. bottle six ways at the end of a meal.
Homebrew legend John "Rock Candy" Palmer was there too.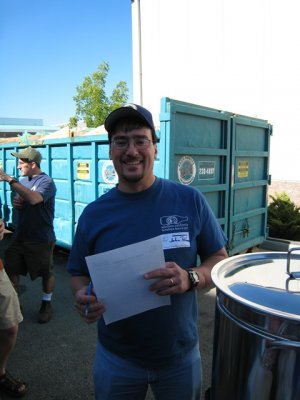 He was sharing his wisdom on topics from dry yeast to residiual alkalinity (can you say "Chapter 15"?) I've chatted with him a few times by email but it was cool to meet him in person and realize he's a regular Joe. In the picture above he's filling out a score sheet on one of the homebrews someone brought with them.
We finished up the rally with a bottle of Brut du Board that Maltose Falcon's President Steve Cook brought up with him.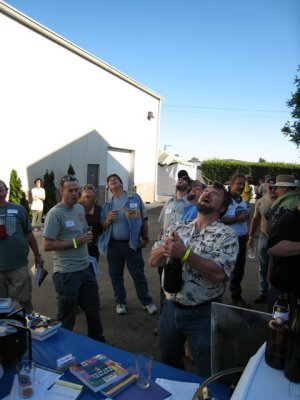 He launched the cork a good fifty feet. The beer was an interesting dry spicy and slightly sour ale. They prepare it in the champagne style as described in a recent article in Zymurgy magazine. Definitely a great beer for special events!
So ended the second annual Firestone Walker AHA Rally. You can be sure I'll be there for the third annual event!
Slainte,
Dave.