Assembly
Now all that's left is assembling the pieces. Start by lining up the hopper and the housing and screwing them together: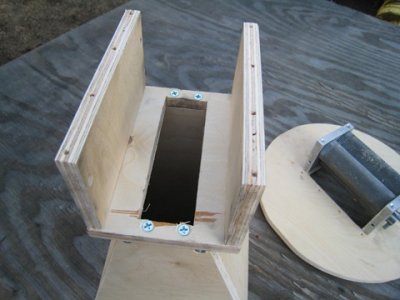 Then place hopper and housing upside down (hopper side down) and place the mill in the housing. Line up the base and attach the base to the mill using the mounting screws that came with the mill. Finally use screws to attach the base to the housing: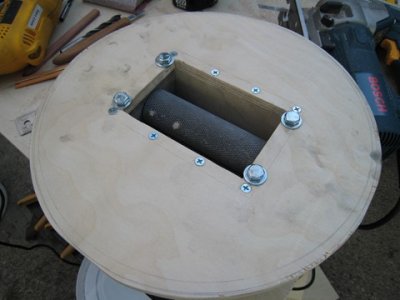 Assemble the replacement set screws and screw them into the mill: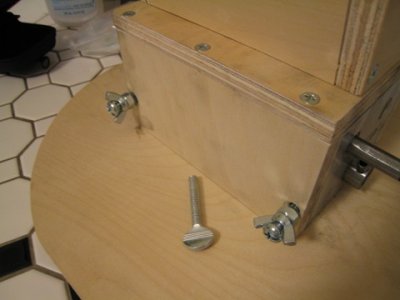 Conclusion
You're done! Well, you can do more but you've got everything together and it should look like this: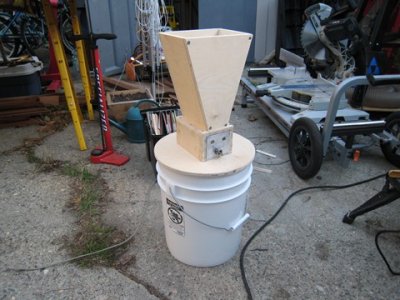 You can flip it upside down for storage like this: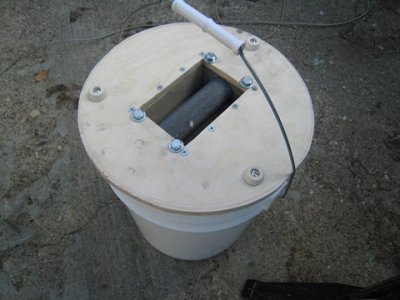 If you'd like you can apply a coat of wood finish or paint. I may get around to doing that at some point but I don't think it's critical.
Other Thoughts
I picked up a nice drill from Harbor Freight. It's a geared down, low speed, high torque 1/2″ drill. It maxes out at 550 rpm so it's in a perfect range to run the mill and use for other low speed stirring needs (think mash stirring…) The chuck is nice and solid and the drill works like a dream. All told about $40: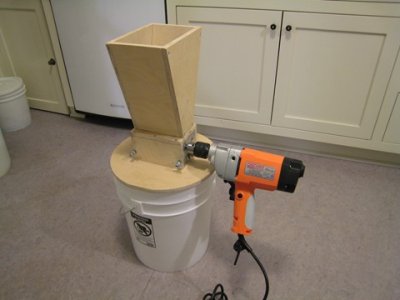 I'm super happy with the whole setup since it packs down nicely and grinds solidly. Feel free to shoot me email with questions or feedback.
FAQ
How much grain does the hopper hold? I can fit about 4 lbs. of grain in the hopper. This may sound small but anything larger would make a fairly top heavy setup. I ran into this problem with my Barley Crusher. When the hopper was loaded up the slightest torque could send the hole thing tumbling. Instead I just have another bucket of grain and scoop into the hopper.
How much did it cost to make? I didn't keep careful track but I'd guess about $30 if you include the price of two buckets.