Building a Compact Crankandstein Mill Base and Hopper
I've been lusting over the beautiful Crankandstein 3 roller mill for a while now and was fortunate enough to get it for Christmas. One major difference with the mill over the Barley Crusher that I had before is that the Crankandstein arrives bare bones with just the rollers and metal sides. So before I could use my new mill I had to build a housing.
My criteria for the base and hopper were the following:
Quality – of course the mill needs to perform at it's peak
Size – they need to pack down small as I don't have room for a dedicated milling station and sometimes I need to take the mill with me
Durability – they need to last a long time
Capacity – the hopper needs to be moderately sized so it can hold enough grain that I don't have to hand feed directly into the rollers but not so big that it makes the setup top heavy
Cleanliness – when running the mill I don't want dust blowing all over the place
Taking those requirements into account I designed and built the base and hopper that follow.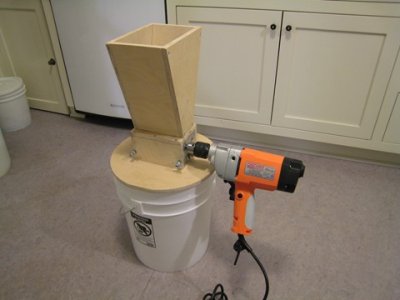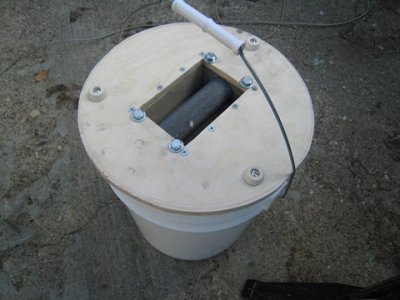 Table of Contents
Page 1 – Overview, Sketch, Parts, Materials and Tools
Page 2 – Procedure, Construction Tips, Base, Hopper, Housing
Page 3 – Assembly, Conclusion, Other Thoughts, FAQ
Sketch
I knew right away that I wanted a setup that would mount to the top of a bucket when in use to minimize airborne dust and would store upside down with the hopper in the bucket. I took some measurements and mocked up something in cardboard. I took those measurements and drew a prototype in SketchUp. Here's what I came up with: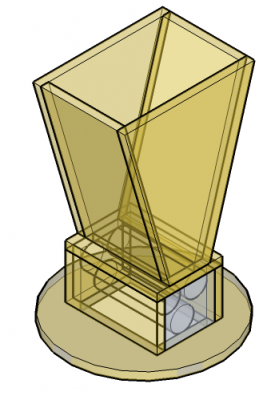 Parts
I've broken the project down into three parts. Starting at the bottom there is the round base that covers the bucket and that I bolt the mill to. Moving up there are three rectangular boards that form the housing for the mill to keep the dust from coming out the sides and provide a base for the hopper. At the top is the hopper made of two trapezoidal pieces and two rectangular sides to hold the grain on it's way to the rollers.
Materials and Tools
To build this base and hopper you will need the following materials:
2′ x 4′ sheet of 1/2″ birch plywood (actually you'll only use 2′ by 2′ of the sheet if you're careful)
a couple dozen #8 x 3/4″ flat head screws
3 screw on rubber bumper feet
1/4″-20 x 2 1/2″ machine screws with matching wing nuts and nuts (x2 to replace the set screws)
5 gallon bucket (though I suppose you could use a 6.5 gallon)
the mill and the mounting hardware that came with it (4 x 1/4″ bolts and washers)
You'll also need the following tools:
jigsaw with a good blade for cutting plywood
3/8″ drill
cordless screw driver
5/64″ drill bit (for the #8 screws)
countersink drill bit
5/16″ drill bit (for mill mounting bolts)
5/8″ drill bit
marking knife or Stanley knife
pencil
12″ ruler
sandpaper and block (120 grit is fine)
straight edge
framing square
miter saw (aka chop saw)
clamps to help with assembly (alternatively an extra set of hands will work just as well)