Keg/Carboy Washer
After listening to recent episodes of The Sunday Session on the Brewing Network I was reminded of an intriguing project by Dr. Scott. A few years ago he described a keg washing station that could also be used to clean carboys. This came up again with Tasty McDole saying he'd built one as well.
All of that, a stack of dirty kegs, plus a bit of vacation prompted me to dive into building one of my own. Much thanks go to Dr. Scott, Tasty McDole, and the Brewing network for the idea and most of the details. I put this together to make this available to the brewing community.
With this washer I am able to efficiently and effectively clean a keg or carboy while walking away to focus on other brewing tasks.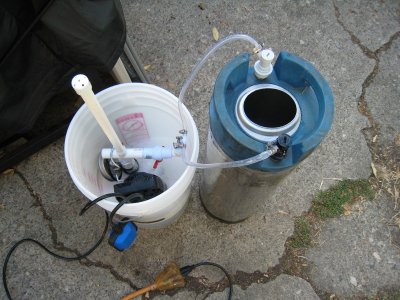 Table of Contents
Tools and Supplies
All told this setup costs around $50-60. You can probably do this for less if you have parts available.
6.5 Gallon Ale Pale (or other bucket)
Gas and Liquid Quick Disconnects (1/4″ barb)
1/4″ ID poly tubing
1/4″ tee barb
6 hose clamps
1/4″ barb x 1/2″ MIP connector
2 of 1/2″ slip fitting caps
1 of 1/2″ slip cross
1″ FIP connector x 1″ female slip
1″ male slip x 1/2″ male slip
1/2″ female slip x 1/2″ MIP connector
1/2″ MIP ball valve
1/2″ street elbow
1/2″ x 4′ PVC pipe
PVC primer and glue
teflon tape
pipe cutter
tape measure
drill
1/8″ brad point bit