After hearing about the flurry of people scrambling to get their hands on a $220 conical from Brew 4 Less through eBay, I couldn't resist. I picked up first one and then recently another so I could do all my regular fermentations. The two will allow me to switch back and forth and brew about one beer per week while not having to transfer out of the conical to secondary except for a few beers that take longer.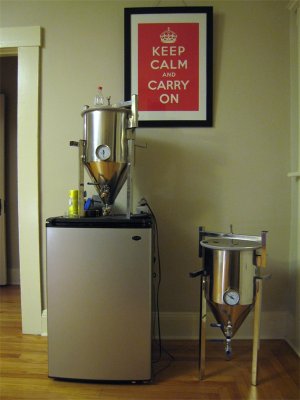 I did some modifications by replacing the valves with nice three piece break down valves for easier cleaning. Then I did some very careful measuring and figured out what modifications I had to make to get the conical into my Sanyo fermentation fridge. Basically I cut the legs as short as I could so there will still be room for the dump valve (removing about 5 1/2 inches.) With that it fits perfectly with no modifications to the fridge. There's even room for an airlock.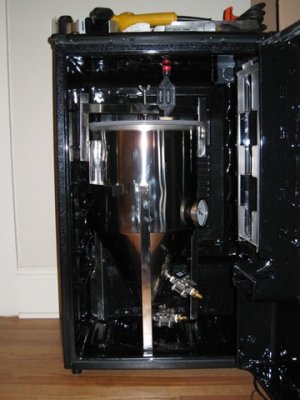 I had good luck with my first batch through the conical so far. I dumped the trub on my Firestone Pale Ale clone at about 36 hours. It's ready to put into a keg so I'll report back soon.
Dave.