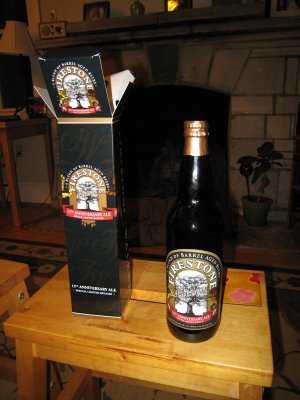 Here's my rating from www.ratebeer.com on 11:
Picked up two cases of bottles today at the Firestone taproom in Paso Robles, CA.
Served at about 55 F in brandy snifter glasses. Aroma of bourbon, freesias, vanilla, and oak. Surprisingly strong head of dark tan. Beer appeared chocolately black down to toffee brown when held up to the light.
Taste was of strong molasses, moving to coffee, oak, and dark caramel, with a roasty and vanilla finish. The mouthfeel showed the slickness of the oat component and was overall full due to the fairly high carbonation.
The beer showed strong notes of the Bravo Brown component that made up most of the blend. The hop bitterness was moderate and the alcohol was bracing. Overall the balance was towards malty sweetness. The beer shifted more towards the oak and vanilla components as it warmed.
This beer is definitely ready to drink in the bottles now but will likely significantly improve over time if 10 is any measure.