So last weekend was the California Festival of Beers at Avila Beach Golf Resort. All the beer festivals I've been to before have been up in Seattle. Up there they have what seems like a festival every weekend for about a month and a half at the end of summer. The weather's great and people come out to have relaxed time, sample some great micro brews, and listen to local bands. It was a great way to celebrate the end of summer and to prepare for the near hibernation that comes with the nine months of clouds and drizzle in the Pacific Northwest.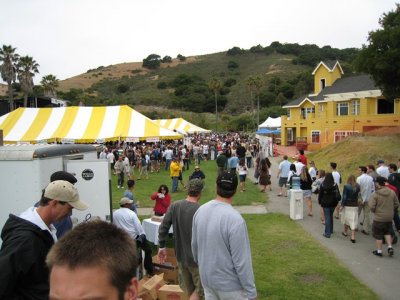 So with this in mind I was super excited about the Avila festival. I think the first bad sign was the crazy line of people to get into the place. When we got in people were packed tightly about 10 deep around all of the serving stations. I wouldn't call it your beer aficianado crowd as the lines to the Coors and Pete's Wicked Ale booths were longer than the lines to North Coast and Firestone. As near as I can tell this was the college age crowd looking to down as many beers as they could in the afternoon.
Probably most dissapointing was that many of the stations were staffed by volunteers who knew nothing about the beers they were pouring. In one case I was served something I was told was a Saison from Pizza Port. It was most certainly not a Saison and came across like a watered down Corona with some added corn and malt flavor. Afterwards I deduced that it was really Pizza Port's Baja Session.
So was it all bad? No. There were some definite highlights when I got to try different versions of beers I'd had in the past or beers I'd never had before.
Here's a short list of what I can remember being great in the order I tried them:
Probably the ultimate highlight was participating in the melee of Matt Brynildson pouring a Salmanazar (9 liter bottle) of year and a half old Parabola.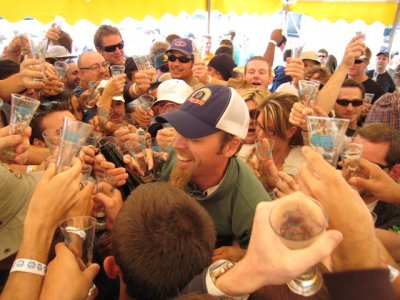 In a surprising move Matt hopped under the table and came out to the middle of the crowd to pour. He stood on a bucket and turned slowly pouring into any glass that was held out. It was mad and amazing and a little scary as a hundred people scrambled to get their glasses close enough to get some of the precious liquid. It was a strange sight seeing so many outstretched arms holding out their glasses. I saw several of the glasses broke in the tussle but that didn't stop their owners from trying to get their fair share. Finally the security team stepped in and pulled him out of the crowd, probably out of fear he was about to incite a riot.
Parabola is a barrel aged imperial stout hopped with Summit, Styrian Golding, and East Kent Golding. It was also a component of their amazing 10th anniversary beer, 10. Despite the initial rush there was plenty to go around for those that were there on time. The beer had an amazing bourbon nose and the taste was sweet and malty. The bitterness was surprisingly low and it was a very interesting beer to try in small samples. It's not a beer or experience I'll soon forget.
After that I hit the barley wines and things went quickly downhill. The beers definitely caught up with me and I was very happy to have a designated driver to get me home (and very sorry I got a bit sick in her car.) It took me about 48 hours before I was fully recovered.
So will I be getting tickets next year? I'm on the fence. The beers were great and if I had been more careful about not drinking too much I think I would have had a much better experience. At the same time there were only a handful of beers I couldn't get other places. I think two people could easily put together a much better mini beer festival of their own by spending their $40 per ticket picking up interesting beers from a good beer store. You'd be able to pace yourself, wouldn't have to deal with the crowds, and could enjoy a sunny day without leaving home. But you'd miss Matt almost starting a riot…
Let's just say I'm glad I went but I think it'll be a few years before I go again.
So, what am I up to next weekend? The Firestone AHA Rally. I went last year and it's the ultimate experience for a beer geek that loves their local micro brew.
Slainte,
Dave.