All the major construction on my new brew sculpture is complete. It's based on the MoreBeer 1550 except it's equipped for 5 gallon batches with Blichmann Boilermaker kettles. Also, since I was going for a smaller size I skipped the complexity of the tippy dump mash tun.
Here are a few pictures: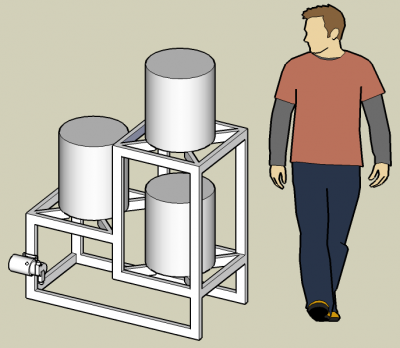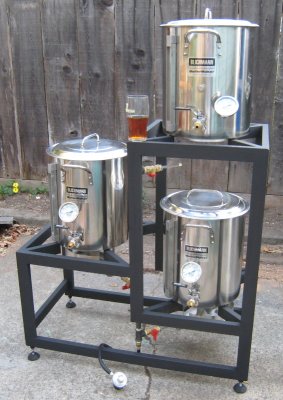 My New Sculpture. Three 10 gallon Blichmann Boilermakers, a 1×2 metal frame, plumbed propane, levelers, and hose rack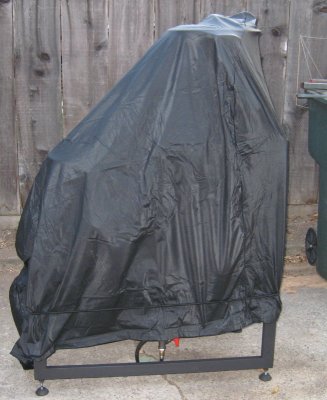 A Smoker BBQ Cover Fits Nicely
I still have a few things to complete this week:
Attaching the March pump (it's currently in my ammo box setup but I've got a nice stainless mounting bracket)
Putting together the silicone hoses with quick disconnects
Installing the third burner (just waiting on it to arrive from George)
Upgrading the regulator (it's currently a fixed pressure regulator that's way under what I need. I've ordered an adjustable 0-30 PSI one.)
Mounting the Ranco temp controller
The overall height is just perfect as I planned it so I can easily see into the mash tun.
Some time in the future I plan to upgrade the following:
Add a control panel to hold my temp controllers and perhaps a float switch
Add automatic ignition for the burners
Upgrade to an ASCO valve on the HLT so I can control the burner with a temp controller
I did all the construction myself. Total cost without the pump and kettles was roughly $300 for all materials and consumables. Of course that assumes you've got access to a MIG welder and chopsaw, the skills or willingness to learn, and roughly 12 hours.
I've got a cutlist and a Sketchup file of the sculpture. Contact me if you'd like copies. Updated: I've made a follow up post with these docs: http://www.slobrewer.com/2008/07/29/brew-sculpture-details/
Dave.

Giveaway iPhone 7 Plus